ΩΡΕΣ ΛΕΙΤΟΥΡΓΙΑΣ
Καθημερινά: 10:00 - 14:00
Απογεύματα: Δευτ. - Τετ. - Παρ.
ΔΗΜΟΦΙΛΕΙΣ ΣΥΛΛΟΓΕΣ
Βιβλία
Αρχεία
Μονόφυλλα
Περιοδικά & Εφημερίδες
&nbsp&nbspΚΑΤΑΛΟΓΟΣ
ΒΙΒΛΙΟΘΗΚΗΣ
The Corfu Reading Society is the oldest cultural institution in Greece, its presence uninterrupted since 1836 ...
Read More
Events
ΑΝΑΚΟΙΝΩΣΗ
ΛΟΓΩ ΤΩΝ ΕΚΤΑΚΤΩΝ ΚΑΙΡΙΚΩΝ ΣΥΝΘΗΚΩΝ,
Η ΠΡΟΓΡΑΜΜΑΤΙΣΜΕΝΗ ΔΙΑΛΕΞΗ ΤΟΥ ΚΑΘΗΓΗΤΗ ΣΩΤΗΡΗ ΒΑΝΔΩΡΟΥ
ΣΤΗΝ ΑΝΑΓΝΩΣΤΙΚΗ ΕΤΑΙΡΙΑ ΚΕΡΚΥΡΑΣ, ΑΥΡΙΟ ΠΑΡΑΣΚΕΥΗ,
ΜΕ ΘΕΜΑ: «Πολιτικές Δημόσιας Υγείας την εποχή της πανδημίας»,
ΘΑ ΔΟΘΕΙ ΜΟΝΟΝ ΔΙΑΔΙΚΤΥΑΚΑ.
ΛΥΠΟΥΜΑΣΤΕ ΓΙΑ ΑΥΤΗ ΤΗΝ ΑΛΛΑΓΗ
ΚΑΙ ΣΑΣ ΕΥΧΑΡΙΣΤΟΥΜΕ ΠΟΛΥ ΓΙΑ ΤΟ ΕΝΔΙΑΦΕΡΟΝ ΣΑΣ.
ΑΚΟΛΟΥΘΕΙ Η ΠΡΟΣΚΛΗΣΗ ΚΑΙ ΟΙ ΔΙΑΔΙΚΤΥΑΚΟΙ ΣΥΝΔΕΣΜΟΙ:
Η Διοικητική Επιτροπή της Αναγνωστικής Εταιρίας Κερκύρας σάς προσκαλεί στην ομιλία του
κ. Σωτήρη Δ. Βανδώρου,
Αναπληρωτή Καθηγητή και Αναπληρωτή Κοσμήτορα του King's College London και
Adjunct Αναπληρωτή Καθηγητή του Harvard University
με θέμα: «Πολιτικές Δημόσιας Υγείας την εποχή της πανδημίας».
Η παρουσίαση θα πραγματοποιηθεί την Παρασκευή, 15 Οκτωβρίου 2021 και ώρα 20:00 σε απευθείας σύνδεση μέσω του διαδικτύου:
Webinar ID: 822 2169 8179 Passcode: 141948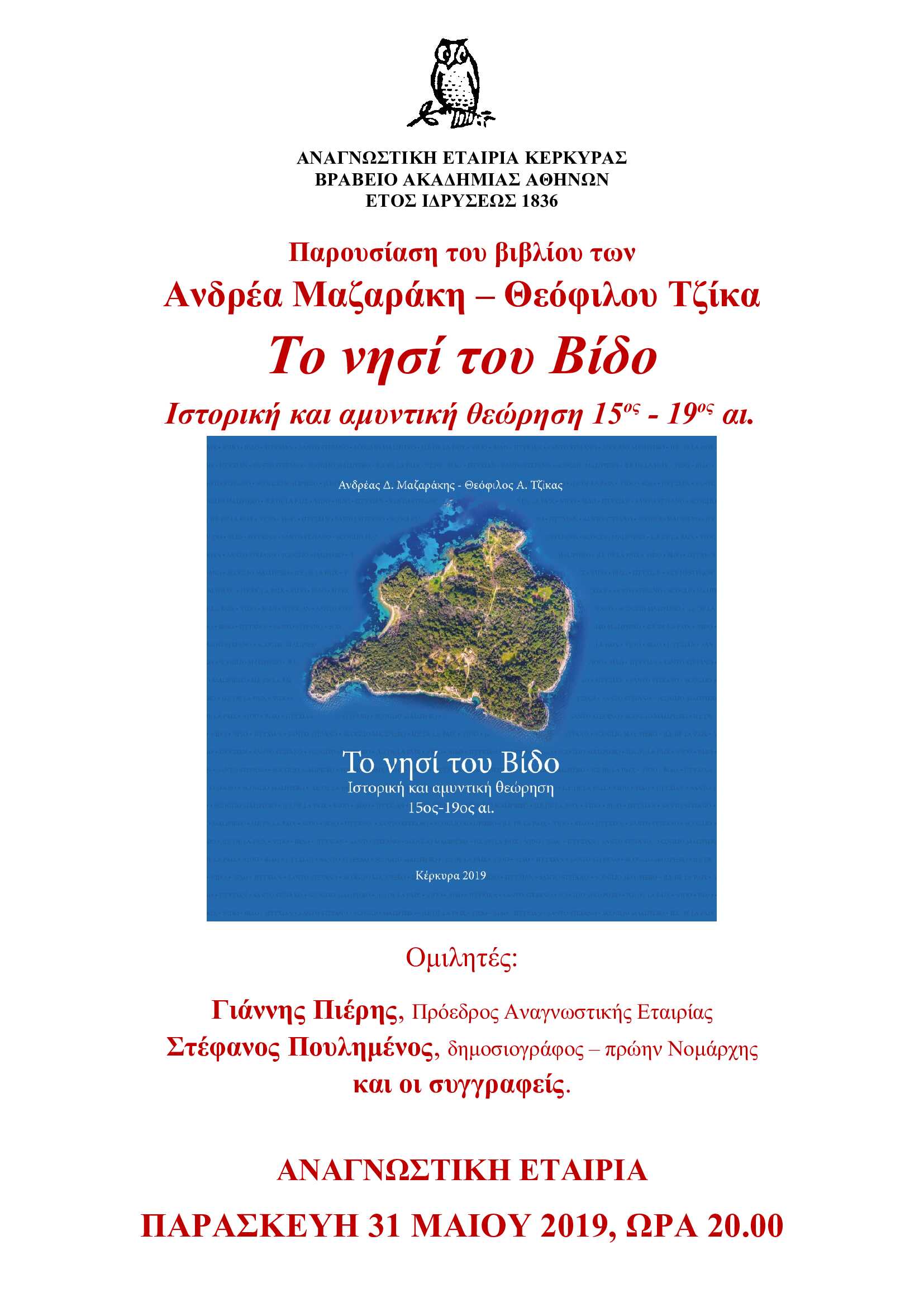 The Corfu Reading Society was established in 1836 and has remained a research centre and a custodian of Ionian culture ever since
Publications
Sign up
for our Newsletter
Kapodistiou 120, 49100, Corfu, Greece
Τel: 26610 39528
Fax: 26610 27277
Lounge Area: 26610 33297
Email: anagnostikicorfu@gmail.com,
library.anagnostikietairia@gmail.com
Opening Hours:
Monday to Friday 9:30 – 14:30